Design

from concept to reality
It's very important to develop a master plan before beginning any major landscape project. You could easily spend the same amount of time and money developing a bad or inefficient landscape as a good and sustainable one.
There are many elements beyond plant selection and placement to consider. Our degreed and licensed Landscape Architect will combine your thoughts and ideas with his extensive knowledge and experience to produce a unique and inspiring master plan.
The master plan is the critical first step towards turning a concept into reality. On this canvas you will see the plan unfold with area use, grade and drainage, landscape layout and plant selection, sun and shade, view and privacy, and many other elements intelligently integrated so that they flow harmoniously.
Design Fee Schedule (1/3 Acre or less)
Front Yard $350
Back Yard $350
Front & Back Combined $550
Minimum Landscape
Architect Consultation $100/Hr
Any additional cost for properties over 1/3 acre or involving unusual complexities will be explained before proceeding.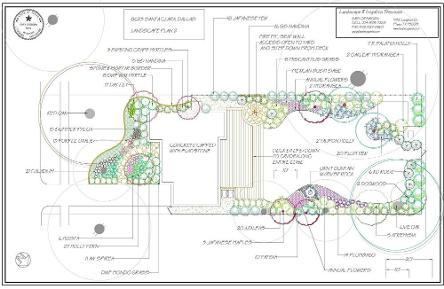 Here's how it works
Get your project off the ground by contacting us to schedule an appointment with our Landscape Architect. To the right you will find a schedule of fees for design work. You will be billed based on this fee schedule, however, Landscape And Irrigation Services will absorb these fees if we are awarded the installation contract. In the event of partial installations, we will absorb fees proportional to the part awarded.
The fees quoted on the right are typical but some properties will require considerably more time and cost due the many property size, scope of the project, hardscape features, ...etc. The Landscape Architect will provide a firm quote at the initial visit. It's worth noting that the vast majority of our designs have matched the pricing quoted here.
Should you feel that your project does not need a formal design plan, please contact us to schedule a free estimate. Our experienced landscape specialist will work with you to develop a detailed comprehensive and itemized estimate.
We are a professional Landscape Design, Install company providing landscape design and installation / build , landscape projects, landscaping, landscape renovation, new landscape, landscape design, landscape planning, Landscape plan, landscape architect,landscape lighting, drainage, landscape drainage, irrigation, landscape irrigation, patios, sitting areas, garden paths, stone borders, stone walls, stone work, ponds, streams, waterfalls, water features, fountains, water gardens, arbors, trellises, pergolas, cedar arbors, lawn maintenance, lawn service, lawn mowing, ...etc. We provide these services in: Dallas, Plano, Garland, Richardson, Addison, Highland Park, University Park, Murphy, Parker, Carrollton, Frisco, Allen, Coppell, McKinney, Fairview, The Colony, Lewisville, Lakewood, and surrounding north Dallas and north Texas communities.